Last month, mayoral candidate Bill de Blasio, center, appeared with Kathleen Turner, a director of People For the American Way Foundation, at a campaign stop in the Upper West Side of Manhattan.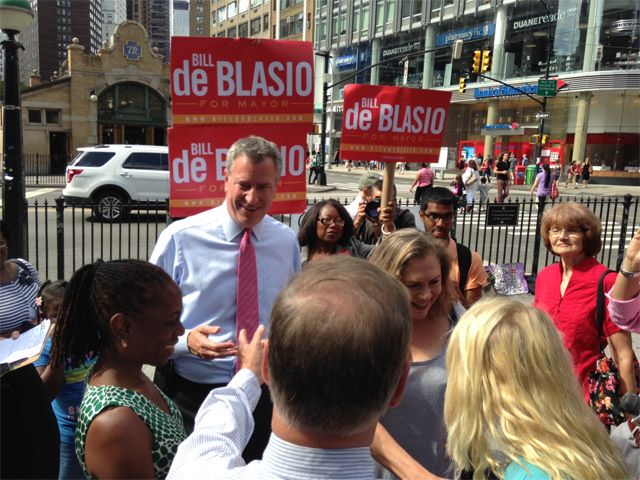 Robert Adler, a Staten Island special prosecutor, has been issuing subpoenas to investigate improper campaign financing to candidates the Working Families Party aided in 2009, which include Bill de Blasio and his race for public advocate. Meanwhile, the ''progressive'' group People For The American Way is rallying to support de Blasio's mayoral campaign, even though he has violated important PFAW principles, such as the right to cast a vote that counts.
Since it's not politically expedient, Bill de Blasio won't emphasize the need to count all the votes. @BOENYC

— Stop Bill de Blasio (@StopdeBlasio) September 17, 2013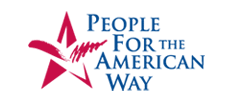 Earlier this week, mayoral candidate Bill Thompson conceded his loss in the Democratic primary election, even though the New York City Board of Elections had not yet completed its count of 80,000 paper ballots. Consequently, Mr. Thompson conceded even though the Board of Elections had yet to certify the primary election outcome. On NY1 The Call, many callers complained that Mr. Thompson was bowing to pressure from the de Blasio campaign in order to shore up Mr. de Blasio's standing with fundraisers. Callers felt that voters were being betrayed, because Mr. de Blasio was forcing an election outcome out of political expediency at the cost of allowing the 80,000 paper ballots to be counted.
At Mr. Thompson's concession speech, he groused that it was unfair that the Board of Elections had failed to timely count the votes cast in the Democratic primary election. Previously, Mr. Thompson had urged the Board of Elections to make sure that every voice would be heard, that every vote would be counted. But on the occasion of Mr. Thompson's concession, Mr. de Blasio never once address the issue of the uncounted votes, which citizens had cast, and which would not be counted toward the Democratic primary election results.